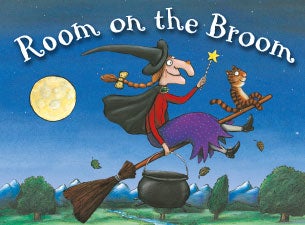 In Pre-K we have been learning how to listen out for rhymes in words. We talked about how a rhyme is when two words sound the same at the end of the word, such as cat and sat, or room and broom. To introduce this concept we tied in a little halloween inspiration and dug out one of our favorite books; Room on the Broom.
Room on the Broom was written by a British author, Julia Donaldson and illustrated by Axel Sheffler, who you may know from the amazing Gruffalo. It tells the story of a kind witch and her cat who invite a number of other animals to join them whilst travelling on her broomstick. Room on the Broom has been translated into 21 languages and has won 6 book awards!
In Room on the Broom, there are rhymes all the way through, and as we are reading we leave pauses and gaps for the children to try and fill with the rhyming words. We also ask the children to do a special signal to show that they have heard the same sound twice. When you read any poems/rhymes at home, get your child to show you how we show it's a rhyme!
We have added a link to a video of the story, and also to the website for the book which has lots of lovely games and ideas.
Happy reading!
http://roomonthebroom.com/